'Modi's answer in Twitter ! - Pinarayi Vijayan in the Rs 700 crore deal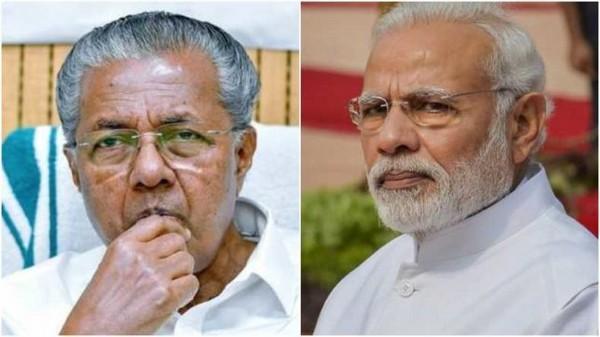 The neighbors and world countries have come forward to help restore Kerala's floods from floods. At the same time, the news that the emirate has announced Rs 700 crore as relief aid is still a controversy.
Earlier, Union Minister Rajnath Singh had announced Rs 100 crore as immediate relief fund. Meanwhile, the rain again intensified. In this situation, the countries like the United States and the United States offered to help. Prime Minister announced Rs 500 crore as first aid relief fund for the central government. So far, Rs 600 crore has been allocated to Kerala as relief fund.
At the same time, Chief Minister Pinarayi Vijayan said that the emirate offered Rs. The announcement turned to the debate over the federal government. The controversy erupted as the federal government provided little financial support. Following this, the Central Government rejects the financial support of the Emirate. However, the Central Government has been silent until now without any explanation.
"The UAE has not yet taken any decision to provide Rs 700 crore to Kerala," Ambassador Ahmed Alfanna recently said in a statement. This led to the criticism of the opposition, Pinarayi Vijayan.
Pinarayi Vijayan, who met the reporters yesterday, said, "There is a response to the Prime Minister's offer in the Twitter report. Prime Minister Modi and Sheikh Mohammed bin Saeed bin Sultan Al Nahyan said the United Arab Emirates had offered to finance. This information was told by businessman Yusuf Ali. To him, I asked him if he could tell it among the people. He also said. And what's the truth of the Prime Minister Modi's Twitter record? "
Prime Minister Narendra Modi posted on Twitter last on Twitter, saying, "Thank you very much for Shaikh Mohammad bin Zayed bin Sultan who has come to support the Kerala people in this difficult time. Your concern about Kerala reflects a special relationship between the Government of India and the United Nations and the people of both countries. "For More Tamil Online News- http://www.tamilonp.com/ -செய்திகள் ,தமிழ் செய்திகள் தமிழ் ஆன்லைன் செய்திகள்