Powder scattered in the bedroom of a young woman was found dead in a star hotel in Chennai ...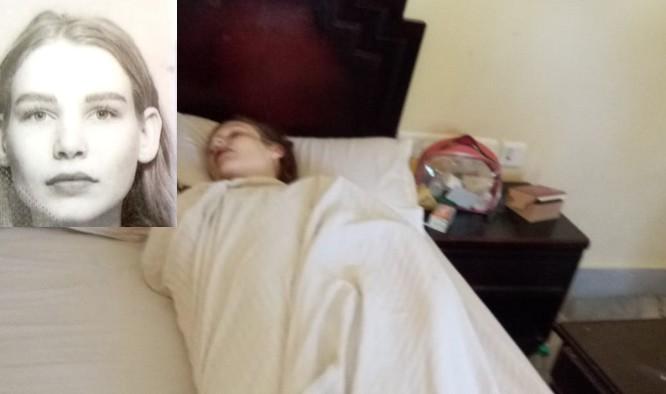 A teenager from the Netherlands was found dead in a bedroom in a star hotel in Chennai, Chennai. The police are investigating the powder-like material in the room.
Chennai Nagar, Venkatesan Street has a star hotel. Linda, a 24-year-old girl in the Netherlands, was staying in the hotel on the last of the 27th. She told the hotel staff that she was vaccinating the room on 30th. But she did not empty the room. The door of the room where he stayed was not opened yesterday. Thus, the staff doubted. Employees informed Mambalam police about this. The police and hotel staff tried to open the door of the room with the keys to change. But the door was locked inside. The door was broken and the police and the staff went inside. Then the scene they saw shocked everyone.
Linda lying in the bedroom. Soon he was sleeping and the policemen woke him up. But he did not cry. At this time, the powder was scattered near his bed. It was seen by the police and hotel staff. In the meantime they understood the disaster. They continued to carry Linda to the hospital. The doctors who examined him told him that he had already died. Linda's body was later sent to the Chennai Government Hospital for post mortem. The Netherlands Embassy in Delhi has been informed that the Netherlands Embassy is not in Chennai.
The police said, "The young woman in Lynda in the star hotel in the city of Nagar has introduced herself as a reporter. He has stayed there for four days. Some people have come to meet him. She died in the bedroom on the day she was told to vacate the room. He is more likely to commit suicide. Because the door of the room where he was staying was locked in. There is a bottle near the bedroom. There is a substance like powder. The powder was scattered in the room. Thus, we have doubts that he may have committed suicide. However, the end of the autopsy will be the reason for Linda's death. We do not know any information about Linda. We have reported to his parents in the Netherlands. They will come to know the whole detail. "
A senior police official said: "Linda's visa expires on August 31. At this time Linda died. We are investigating why he died at the time of his return to his country. Linda collects details of who and who met in Chennai. We also examine the details of CCTV cameras. We have information that a young man has come to meet Linda. We inquire who he is. There was nothing else except the possessions in the room where he stayed. The cause of his death is unknown. The mystery remains in his death. We are inquiring about that. "For More Tamil Online News- http://www.tamilonp.com/ -செய்திகள் ,தமிழ் செய்திகள் தமிழ் ஆன்லைன் செய்திகள்